 Training Videos - Benefits for Businesses
Video is a great tool for anything from marketing to in house training as video content starts to replace written content. The way we digest and interact with media is changing and video is playing a huge part in this - you are more likely to see a video go viral than an article. Today's blog looks specifically at video for training purposes and how it can benefit your company.
We offer comprehensive training to help you produce web-friendly video content and comprehensive Adobe Premiere Elements Training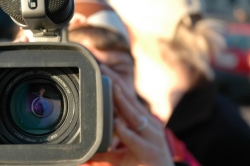 to help you edit your videos to a professional standard.
However, a lot of people don't have the time to produce their own video - and there are some
great production companies out there who can help you.
In this post Guest blogger Andy Havard explains the benefits of using video for training.
Andy is a Marketing Executive at Skeleton Productions, a UK based corporate video production company.
Why Training Videos Are Becoming A Huge Benefit To Businesses Of All Niches
Training videos aren't a new revolutionary training tool, in fact they've been around for years and years. What has became revolutionary though is video itself. Gone are the days where only blue chip corporates could afford to create training videos and long gone are the days of having to traingroups of staff by a worn out VHS tape on a battered old TV. This article explores the great new benefits of using training video in the 21st century and how it can become an essential tool for employees of any business.
1. Video Is Very Flexible
Video as a media is incredibly flexible. It can be burnt onto a DVD disc, copied onto USB sticks, embedded on Power Point presentations, emailed to staff and hosted on the Internet. Videos ability to be both digital and physical in format allows it to become a very versatile training material. It can be viewed on virtually any platform from phones and tablets to TV's, computers and projectors. This makes your training video content adaptable to meet the needs of both your staff and your business.
Guest Author
30 Sep 2011