Andy Trainer
7 Apr 2014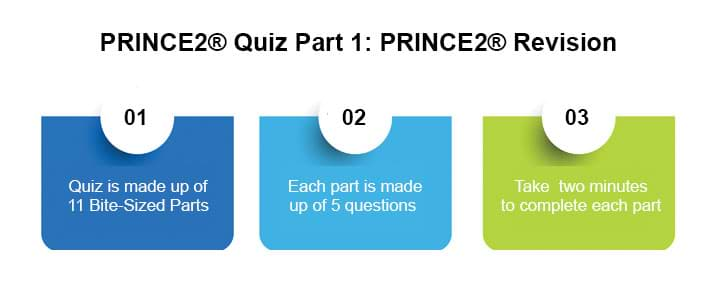 PRINCE2 Quiz Part 1: PRINCE2 Revision
Welcome to our PRINCE2® Quiz, which will test your knowledge of PRINCE2 Processes & Themes.
If you are completely new to PRINCE2, we recommend visiting our PRINCE2 Resources page, full of free guides, tips and diagrams to help learn about PRINCE2.
The quiz is made up of 11 Bite-Sized Parts - each with 5 questions.
It should take you no longer than two minutes to complete each part.
Get 5 or more correct answers to pass!
Quiz questions are written by Silicon Beach Training, this content is not supplied by AXELOS.
Passing this quiz does not indicate that you will pass a PRINCE2 Foundation or Practitioner Exam.
For full PRINCE2 training and certification attend a PRINCE2 Foundation or PRINCE2 Practitioner course at Silicon Beach.
Once you have revised select Part 2 to start the quiz....
Posted under: