Elizabeth Sandwell
26 Jun 2017

PRINCE2 2017: What you Need to Know
PRINCE2 2017 - Everything you need to know!
The world's most practised project management methodology, PRINCE2 is changing from this July. It's been a long time coming - with the last update being implemented eight years ago in 2009. AXELOS announced the changes at the beginning of January and they appear to have been met with a good reception! The methodology has been substantially modernised to meet the latest project management ideologies which have permeated businesses in recent years.
But why is a PRINCE2 2017 update happening?
AXELOS, the accrediting body, has been monitoring feedback from all over the world and keeping up with any changes that happen over time. They are keen to acknowledge and respond accordingly. As such, they came to the conclusion that the syllabus and exams should be updated to make the courses more practical, authoritative and relevant.
The PRINCE2 2017 Syllabus: What is going to change?
There are many exciting changes to look forward to…
A significant modification to the PRINCE2 syllabus is that there will be a greater weight on practically applying PRINCE2 to given circumstances within a project. There will also be a better emphasis on tailoring the methodologies to project requirements, allowing more professionals to use PRINCE2 effectively. Also, PRINCE2 2017 will exhibit greater connectivity to Agile methodologies, producing a technique better aligned with the IT industry. Additionally, the document set has been reduced in order to make certain that projects are efficiently tailored to their environment and provide businesses with the best chance of project success.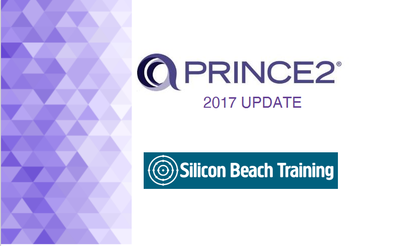 PRINCE2 2017 Exams: What we know!
The PRINCE2 2017 exams have changed marginally. However, it is important for individuals who believe that they may take a PRINCE2 training course after July 2017 to be aware of the exam changes. Also, note that more extensive changes have been made concerning the PRINCE2 Foundation exam format than the Practitioner exam.
Foundation:
The Foundation exam question count will fall from 75 to 60.
The pass mark has been increased to 55%.
There will be fewer negative questions.
The topic Configuration Management has been dropped from the syllabus.
There will be a greater focus on Tailoring and the Seven Themes.
Practitioner:
This exam will test candidates on all parts of the PRINCE2 methodology.
The number of questions related to different parts of the course has been altered, meaning that there will be more questions based on the Principles and fewer about management products.
There will be basic improvements to the exam design itself.
But don't panic – There will be a crossover period between the two versions of the exams, meaning that both versions will be available and exam candidates will have the choice of which exam to take through to the end of 2017. Thus, this will allow companies to complete training across the changeover period. In addition, the validity period for current exam passes will continue unaffected.
Why should I take a PRINCE2 training course?
Passing these exams will indicate a comprehensive, fully up-to-date understanding of the new PRINCE2 methodologies and how to apply them practically to a number of projects within an organisation. A PRINCE2 2017 certification is an enviable addition to your CV, putting you one step ahead of the competition.
Posted under: