Heather Buckley
25 Aug 2011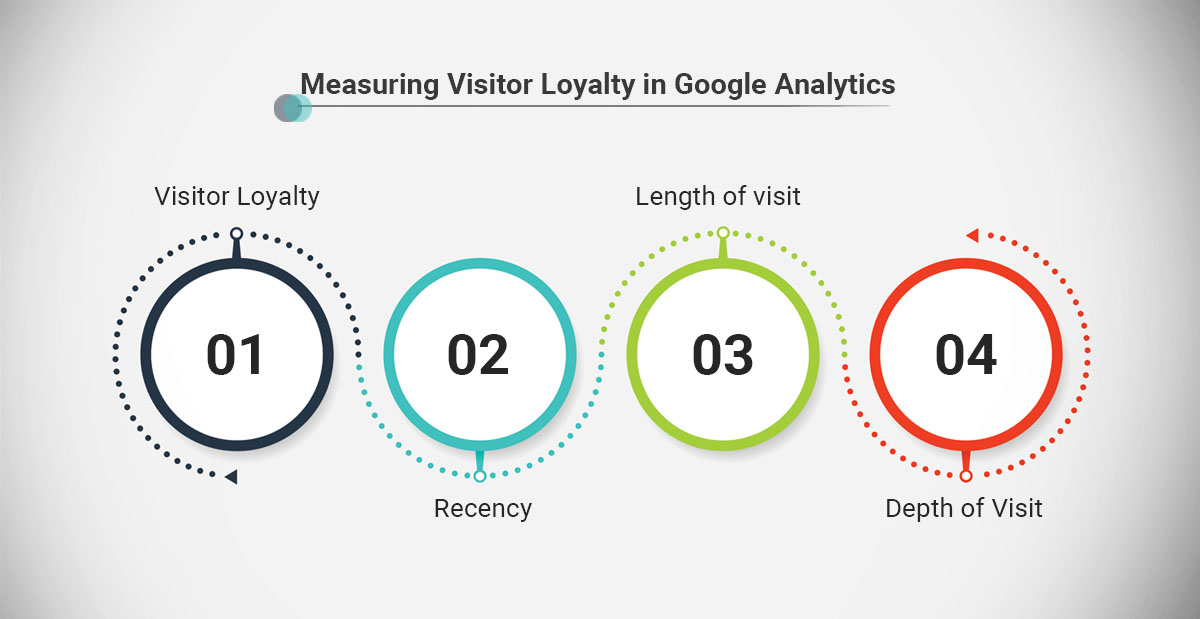 Google Analytics - Measuring Success Using Visitor Loyalty
Everyone talks about ROI (return on investment) and many businesses use Google Analytics to measure the ROI of their internet marketing endeavours using the number of sales measured against the data they get from user activity before they "add to cart" or similar.
What if you have no e-commerce on your site? Maybe you provide a service, provide information, market a cause or a brand and there is no on-line payment transaction to enable this type of analysis. What should you be measuring? How can you use Google Analytics data to interpret the success of a visit to your website?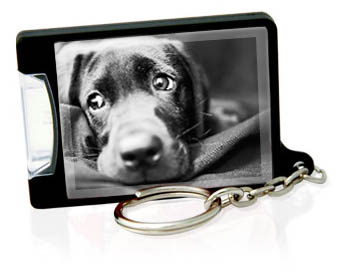 Whilst the jury is still out about how much Google uses visitor loyalty data when calculating the quality of your site. I think it is safe to presume that after the Google Panda update, these metrics are becoming much more relevant to page position in the SERP's than before. If you follow our surviving the Google Panda update guidelines, you will be well on your way to solving any problems that you discover when analysing your visitor loyalty.
If you are new to Google Analytics I would strongly recommend our Google Analytics Course, we get rave reviews. For those who are familiar with the basics, you can fine-tune your master skills on our Advanced Google Analytics Course, we also provide SEO training, however back to the plot.
Measuring Visitor Loyalty in Google Analytics
We recommend measuring successful visits using the four different metrics in the "Visitor Loyalty" section of Google Analytics found in the Visitors section that appears when you log into your account:
Loyalty
Recency
Length of Visit
Depth of Visit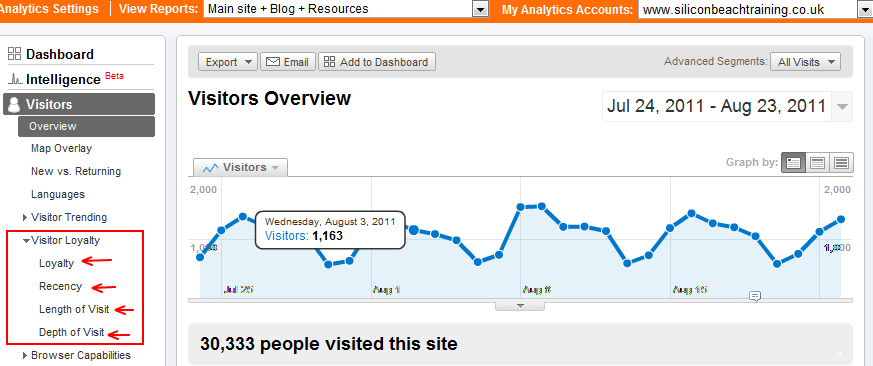 The fact that Google Analytics shows you the distribution of the metrics is key to being able to use this data in a way that allows you to analyse and measure success.
Visitor Loyalty
Look at your visitor loyalty to see how often people visit your website. It will look something like this: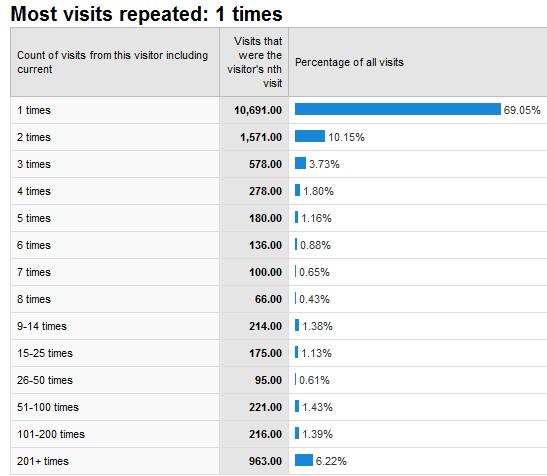 Now here instead of just seeing an average visitor number, you can actually see just how many people visit just once and how many visit 200 or more times. Hopefully, you will have excluded your own IP address so that you and your staff do not mess up the numbers. You should take into consideration that a business with international customers should have better loyalty than those that only serve a local or national area (for example those people searching for face to face training who live on the other side of the world would not be likely returned visitors for us, though companies selling e-learning would expect more returns).
Start measuring and comparing over time - are more people coming back and fewer people visiting once? As we rank well and our courses are mainly in the UK (we do send trainers around the world, but the bulk of our business is in the UK) many international visitors will only visit once. We use Google Analytics to look at the data and compare our UK visitors with our USA visitors using segments, though that is another blog for another day. The point is that if you were solely an information site the figures above would be really worrying, however, we should all be aiming for the same result - more people coming back.
Recency
The Recency section of Google Analytics tells you how long it takes someone before they decide to come back. Recency can indicate your users' level of engagement with your business. Visitors are categorised according to the number of days that have elapsed since their last visit. So new visitors are included in the "First Visit" bar at the top of the chart, and visitors who last visited over a year ago are included in the 365+ bar.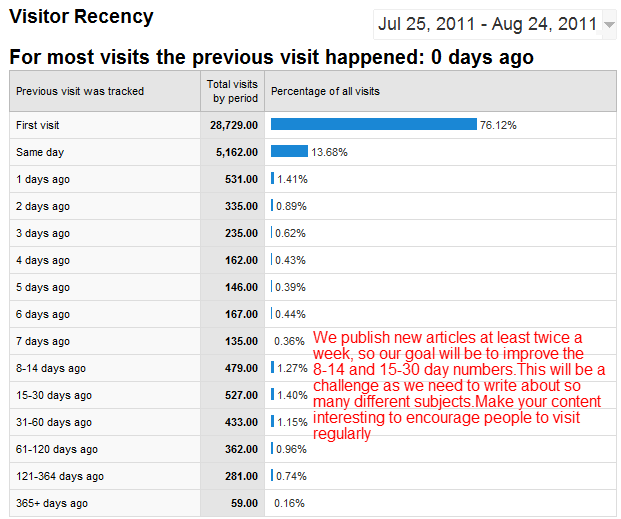 As before to measure improvement you need to make comparisons over time.
Lots of our web traffic comes from Google Search. We update our blog regularly with a number of different resources, it's good to see that many people are revisiting, but this exercise shows there is room for improvement. We will be thinking of ways to encourage the people who find us in Google search to decide to come back. With hundreds of course subjects though rather than one niche subject, this is going to be a challenge!
The trick here is to tempt your visitors with something to come back for. Regular and updated offers or a series of posts that tell a story, regular competitions are all good ideas.
Length of visit
When they find you how long do they stay?
We have some really popular posts that do what they say on the tin! It's difficult sometimes to get people to stay longer but that should be your goal. Try and aim to keep them for at least 60 seconds. The type of site you manage will make these numbers vary wildly, so just see how you are doing today and then aim for better numbers. Think of creative ways to engage your users. Tempt them with well thought out anchor text they cannot resist clicking to send them somewhere else on your site.
Depth of Visit
Do they just read your page and go, or do they dig deeper into your site?

Because of the nature of our website we struggle to get good numbers here, but there is always room for improvement. An average page view rate for many sites is 3 pageviews per visit. If this number is lower you should optimise your pages to increase the engagement of your visitors. Improvements here will also affect the length of time a visitor stays on your site and it will reduce your bounce rate too.
Sometimes you just can't avoid a high bounce rate. Your visitors can find what they need on your page and may not want to view other pages. Many of our clients will find the course they are looking for because it ranks well in the SERP's, they'll print it or save it and then they are off. My most visited page on our site gets the highest bounce rate, I've tried everything I can think of but:
Apple Mac Keyboard # hashtag – where is it? comes up #1 in Google for most people looking for the answer to this question. They find out and they go, what can a girl do?
Where there is room for improvement we are encouraging more engagement using our blog and free resources sections of the site (you are in the free resources section now). This should be mirrored by our Social Media activity. We need to keep creating content that our clients want to read and be more creative with our ideas for increasing engagement. Really what it boils down to is this:
Understanding your client, listening to them, talking with them, and giving them what they want = Visitor Loyalty.
So what can you do to improve your Visitor Loyalty?
1. Check regularly to make sure your numbers are getting better
2. Use Google Analytics to see which pages perform the best in each of these areas, analyse the pages and try to replicate the things on the page that are working for you.
Is it that your content is longer and more interesting?
Is it that you are linking to good relevant content elsewhere on your site?
Is it that you are using more enticing anchor text?
Is it that your content is part of a series of posts or articles?
Is there an offer your users cannot resist on the page?
Can you add something that will engage your visitors, start a discussion, encourage commenting?
3. Use Google Analytics to see which pages are performing the worst on your site
Can you delete or redirect these posts or pages?
Can you add links to other relevant posts or pages?
Can you improve the usefulness or quality of the page?
Can you add or move buttons or links on the page to make them more visible and inviting?
Above all, you need to set yourself some clear goals and start measuring success.
Now we at Silicon Beach Training will be on a mission to improve our numbers by following our own advice! I'll report back and let you know how we get on and what our most successful tactics are. You could always set up goals in Google Analytics to measure your progress more about how to set up a goal in Google Analytics here.
Google Analytics Expert Avinash Kaushik talks about Measuring Success Using Visitor Loyalty in the video below:
For Google Analytics Masters - You can use advanced segments in Google Analytics to better analyse this data, this is covered on our Advanced Google Analytics training course, however for those of you who know what they are doing - here is a brief explanation of how to make a custom report that breaks down the visitor loyalty report.
Advanced segments will allow you to break this data down and measure it.
You will need to create a segment identifying your most engaged visitors.
In your new custom segment, use page depth as your first criteria. Choose greater than 1 or greater than 200 (you can adapt these figures to match the page depth criteria you wish to analyse - you want to create two separate profiles).
Next, add the count of visits, so you can tell how many visits match the page view criteria you chose.
For even more information, you can also add days since the last visit
(15 or less) to measure recency and visit duration
(3 plus) to measure engagement.
Posted under: