Aaron Charlie
12 Mar 2015

The Best Responsive WordPress Themes for SEO
What's that?
You've been advised to "keep it simple" on visuals and now you're even thinking about outsourcing your SEO efforts?
There's no need to skimp on form to enhance the function of your website.
I've picked out five of the best responsive SEO friendly themes for your WordPress site that look great, but look even better in search.
Responsive Theme #1 - Genesis Framework
A wise man once told me that you should invest in a good pair of shoes and a comfortable bed. If you aren't in one, you're in the other.
You get what you pay for when it comes to Genesis, if you're not on your site, you can be damned sure you're thinking about its performance.
I can't recommend Genesis enough, with recent updates integrating Schema.org code compatibility, microdata can be added to your site ticking those SEO ranking factors off on a much smaller scale. With HTML5 foundations and constant updates, your code is kept clean and up to date - something that we all should be paying close attention to when it comes to SERP focus on site speed.
See how your fast your site performs with PageSpeed Insights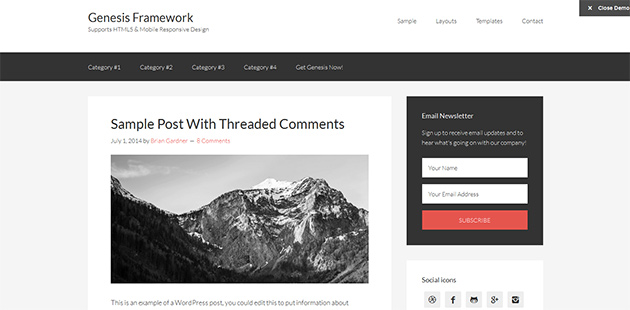 Try out the amp; Genesis demo.
Greg Boser's involvement in Genesis' development is just the icing on the cake. Genesis has been used by the likes of Chris Brogan (CEO of Human Business Works) and Jay Baer if you needed further reassurance.
"I'm not a programmer i'm just a marketer who blogs, WordPress makes it easy, but using the Genesis Framework makes it REALLY easy. If you're a serious publisher. Genesis is a no-brainer." -Jay Baer
Responsive Theme #2 - Schema
Schema go far beyond the call of duty when it comes to user experience. Ad management as well as an inbuilt review system barely scratch the surface of what Schema have to offer - have a look at the comprehensive list of Schema features.
What makes Schema stand out from the opposition is the incredible level of user control available to site admins. Make your site your own through custom widgets, a seemingly infinite number of backgrounds - even edit the CSS.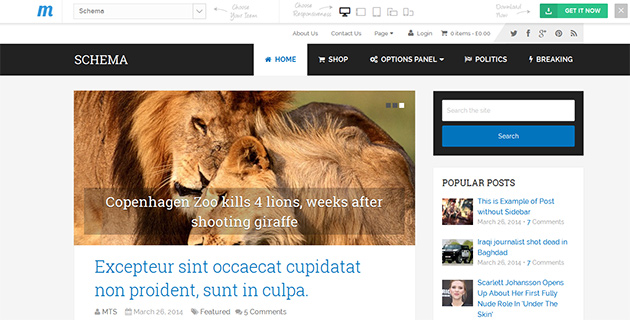 Try out the Schema demo.
Like Genesis, Schema offers 'incredibly fast' loading speeds and extensive pre-packaged SEO support (including support for rich snippets).
No fuss.
Accessibility should be a main concern for any new site, suddenly you're gaining traction within a national demographic. People are crying out for more content, at this rate civil unrest will knock your confidence before your language classes pay dividends. Simply upload a translation file and let Schema do the rest.
Integrated social media sharing and social icons let your content do the talking. Share to a number of sites at the click of a button and your consumers will do the same.
Responsive Theme #3 - Responsive Pro
Does what it says on the tin.
Responsive Pro isn't quite on the same level as Schema and Genesis when it comes to depth of customisation, but more than meets the grade when it comes down to site performance. Responsive design, fast load speeds and fully optimised for SEO. What's not to like?
Responsive Pro is an addon to the original 'Responsive' theme, the upgrade boasts added support for fan-favourite plugins like WooCommerce and bbPress.
Responsive developers describe the theme as having 'Powerful but simple theme options for full CMS', they aren't wrong. You'd be hard pressed to find a theme that can match Responsive Pro when it comes to performance. If you write compelling content with Responsive Pro you will rank in search, regardless of aesthetic complexities. There are few better platforms for content than this.
Try out the Responsive Pro Demo.
Responsive is by no means an unsightly theme, see for yourself.
Simple? Yes.
Powerful? You bet.
Responsive Theme #4 - Thesis
Thesis isn't the theme of choice for site owners internationally out of chance.
HTML5 allows your pages to load as fast as possible, irrespective of your design. Clean, optimised and responsive code only bodes well for search rankings and accessibility.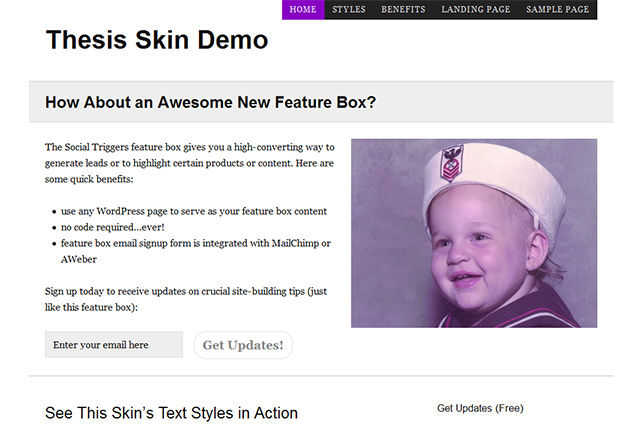 Try out the Thesis demo.
Thesis also allows for Markup Schema further enhancing your performance in search. You'll be up there in the big leagues with Thesis, if you plan your content out thoughtfully and market correctly (see our 7 Steps to Planning Your Next Social Media Campaign) there is no reason why you can't dominate your competition.
Want to see some examples of Thesis in use? Check out Smart Passive Income and Jason Falls.
Responsive Theme #5 - Avada
Avada is both responsive and beautiful. It looks just as good on your desktop as it does on a phone or tablet.
Parallax scrolling has been the hype amongst web developers for months now. Helpfully, Avada has Parallax built-in. The documentation for Avada is comprehensive compared to many simpler themes- newer developers may find this a tad overwhelming. Seasoned developers should have no issue finding their feet, the less experienced will take you a while to learn the shortcode. But as you can clearly see, it's well worth it in the long run.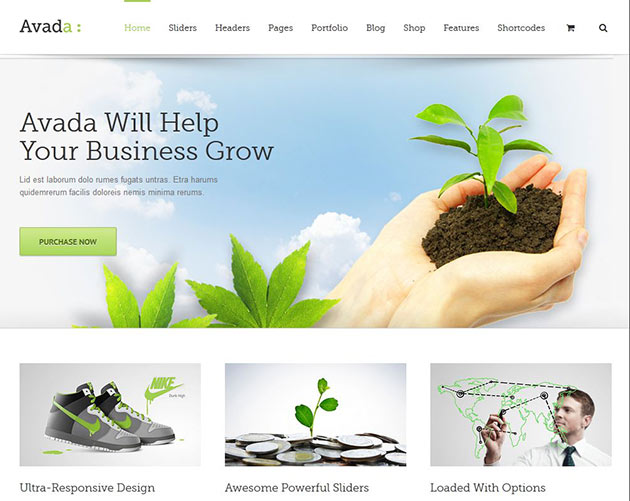 Try out the Avada demo.
Feel free to comment if you have any questions, or alternatively if you disagree with anything mentioned above, i would love to hear what you think.
Check out our WordPress and WordPress Custom Theme courses if you'd prefer a more practical approach to your learning.
Posted under: