Heather Buckley
13 Sep 2011 Brighton SEO 2011 - Is there a Black Hat in the room? - a controversial talk by John McElborough
The full BrightonSEO 2011 Round Up is the most comprehensive available. We feature our pick of the best round ups alongside our own round up with video, slides and comments.
The second speaker at BrightonSEO 2011 got everyone talking and tweeting. John McElborough gave his advice on building a private blog network and added a pinch of controversy to the morning. The usual twitter buzz was rising to a crescendo and #BrightonSEO was trending, but spattered amongst the "Best ever" tributes and tweets of resounding praise were a few disgruntled SEO'ers in the audience tweeting about lack of ethics and Black Hat tactics. I'd like to point out that this is a FREE event. If it were highly priced, superbly slick and full of uber expensive Key Notes we wouldn't see the likes of John McElborough and his honest account of Quick fix SEO. He didn't claim to be ethical, and he was quite open about the fact that in the near future this may not work, he was aware that the Panda Update was still being tweaked and that tomorrow he could be wiped off the face of Google.
He also admitted that Fake Whois identities may not be a great long term plan. I loved his honesty. If it were expensive we probably wouldn't have the privilege of seeing John and having a good debate about it. We probably wouldn't see people like Dave Peiris - @sharkseo. I like the eclectic mix of speakers. If Brighton SEO continues to grow the way it has over the last two years (far from it's humble beginnings upstairs in the pub) we may begin to see less of the Johns of SEO and more high profile Keynotes and polished presentations, then we might be missing something.
I think Kelvin Newman put on a great show. He "owned the stage" as Simon Cowell would say, "he nailed it", Kelvin has the XFactor.
Don't forget to watch the video - juicy debate recorded as well as the presentation.
Building a Private Blog Network - a controversial talk by John McElborough at #Brighton SEO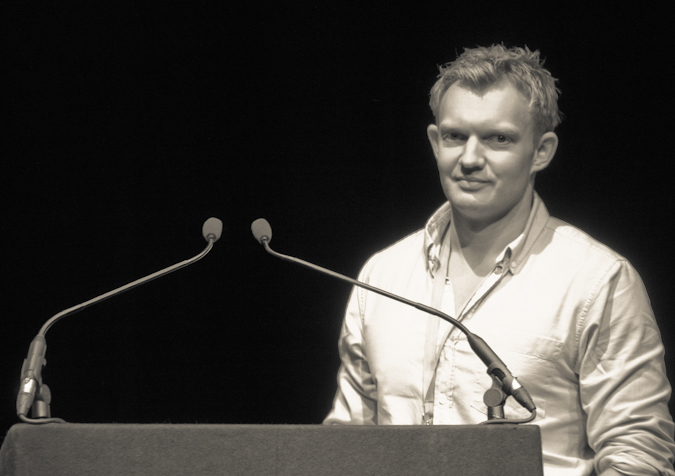 McElborough told his audience to leave ethics behind, asking them to make their own minds up on whether his strategy is white hat or black hat.
John McElborough's method (building a private blog network) is to create a network of anything from 20-100 private blogs, all linking back to a main site. He went on to tell you how to make the domains all look as if they are on different servers with unique IP addresses, and even suggested that you fake your ID on Who-Is when you register the domains. The idea is to build up lots of easy links from each of the domains to each other and to your main site, as well as building up the authority of each private blog using traditional link building techniques.
Black Hat tactics?
He started by talking about the content of the blogs, starting with 5-10 posts on each site, he suggested using interns, students and writer samples. The acquisition of content by these means didn't sit well with the copywriters at the event as explained on Ensign Jen's blog. He is obviously going with the quantity not quality angle here.
Then McElborough mentions the controversial tactic of hiding the ownership of the blogs. He does admit that this is a bit dodgy and by using a fake name and opting out of Whois you are risking having your site taken away by Nominet. Just a bit of a risk then! Dan Barker points out that McElborough isn't really doing anything different to the big media companies but does have different ideas about the quality and value of content. I have read that blocking Whois data is a bad idea because it could be used as one of the trust metrics in the Google algorithm, and even if it isn't now, it may become in the future.
Finally, the third of the SEO Black Hat tricks is instead of using your own AdSense code and leaving a digital footprint that will lead back to you, instead use somebody else's numbers - John suggests pinching code from the Daily Mail! Go John!
Although the process of creating 50-100 private blogs under fake names solely for the purpose of linking to a main site, filled with content of unreliable quality, is a dubious business. I know this used to work, I've seen it work, using many domains optimised for certain keywords. It used to be possible to apply this method work and achieve #1 rankings for popular keywords using content of dubious quality. If you watch the video you'll see him talk about "using textbroker level 4 or 5" for content, and that the content will never be great but he tries to avoid "crappy". It was, and apparently still is, a very powerful way of boosting the rankings of a main site, but is it worth it?
Many attendees of Brighton SEO thought not!

Twitter Feedback Brighton SEO
With the Panda updates shaking up everything, it is clear that Google is getting more sophisticated in tracking down such networks, identifying good content and penalising content of dubious quality. So, would we use these methods to increase ranking until we get caught? Well no, it's just not worth the investment in time or money for something that could be so short lived.
However, how about this - set up a smaller number of blogs, all niche sites dedicated to a particular service or product. Make sure they are well designed and keep them updated with real quality content. Link to your other sites sparingly using appropriate and varied anchor text links in the body of good and relevant text. Do not over link, make it look and feel organic and link to other great resources. Practise ethical link-building to these sites and concentrate your efforts into creating content that users want to share socially. Then what you will end up with is a few good quality sites that follow Google Webmaster guidelines. These will gain authority over time and provide you with an outlet for all those lovely anchor text to your main site, and connection points for your social network.
So instead of worrying about the black hat trickery, you could follow this advice and just do it in a White Hat way. Take what you can from the ideas presented, and create your own ethical solution.
Blog networks are seen as spammy by many but John McElborough believes that any successful blogs can eventually be monetised and that quality writing can be very cheap. This may be an upsetting thought for writers, he does have a point that interns and students can be found cheaply and are fully capable of producing quality content, however unethical this practice is. By the way a while back we put together some SEO insights on the subject in our post Do microsites work for SEO.
It's too risky for us - Google is always updating and finding ways to root out those trying to trick the system and so could backfire in the long term, but as a short term solution it would probably work.
I take my White Hat and Black Hat off to John for being brave enough to share his tactics, may he network blog his way to the top until he gets caught.
Silicon Beach Training provide ETHICAL SEO Training courses as well as Google Analytics Training and Advanced Google Analytics Training. For those who need to know more about Web App development for Mobile we have a range of suitable courses including HTML5 & CSS3 Training, JavaScript Training, and JQuery.
Building a Private Blog Network - by John McElborough - Part 1
Building a Private Blog Network - by John McElborough - Part 2
Posted under: