 Downloadable Link Removal Guide - When to Remove Links
One of the most common reasons that small businesses attend our SEO Courses is that they've had a Google link penalty - manual or algorithm - which have become part and parcel of SEO since the Panda update first reared its head.
With the increase in penalties has come an increase in link removals, but it's not always easy to know when to remove links, or even which links to remove. After all if you remove all your links then you're not going to rank for anything at all!
We decided to clear up the confusion surrounding link removal by creating a downloadable guide to removing links. Simply work your way through the guide to decide if and when to remove bad links, and how to go about doing it.
Click the image below to download the full PDF: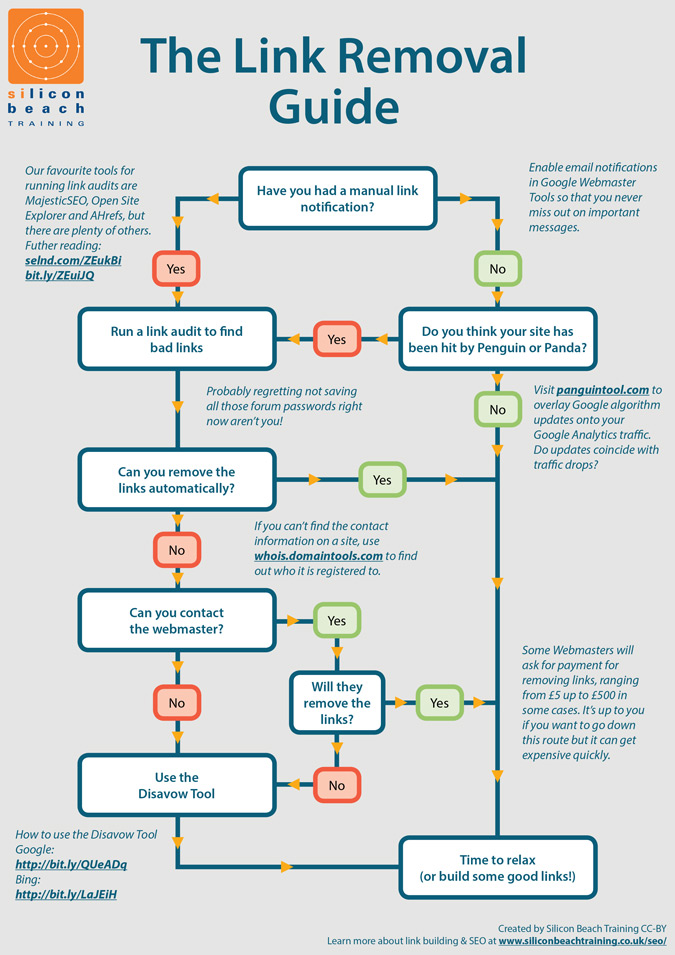 Share this: Twitter | Facebook | Google+ | LinkedIn
It's important to remember that links are no longer the be all and end all of SEO anymore. Personalised results based on location, preferences and search history now mean that no searcher has the same results. This is even more true for mobile searches, which is why we've just launched our one-of-a-kind Mobile SEO course that focused specifically on the mobile side of search.
Have You Had a Manual Link Notification?
Check your Webmaster Tools account for unnatural link penalty notifications, which mean that Google have taken manual action against your site.
If you haven't set up Webmaster Tools then it's essential you do; use our guide to using Webmaster Tools and make sure you set up email alerts so you don't miss important messages.
Craig Charley
7 May 2013