Aaron Charlie
6 Jul 2011 How to Pimp Your Google+ Profile Design - Download Template
The web is alight with Google+ fever at the moment, and it seems that Google might have come up with a Social Networking concept that will truly challenge Facebook.
Like everyone else we've been getting to grips with how to get the best out of our profiles.
We've also devised a natty method for customising your Google+ profile design using tiled images.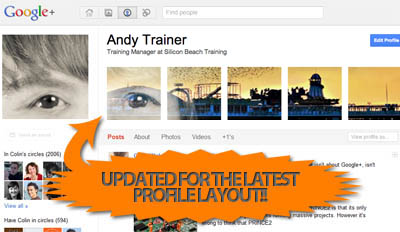 And what's more we've put together a Photoshop Template to make it easy to implement for anyone who knows a bit of Photoshop (for those that don't - we run a great 2-day Photoshop course here in Brighton!)
We're sure you can all come up with some brilliant and creative ways of using the method to customize Google+ profiles that really stand out - we'd love to see the results - so if you use our template please post a link to your profile in the comments section so we can check out your work.
If you're on Google Plus - follow us in the following places for all our goodies: Andy Trainer | Heather Buckley
Here's our step by step guide to customize your Google+ Profile using our PSD Template.
NEW - Check out our selection of the most creative Google+ profile designs!
Posted under: