Craig Charley
16 Jan 2013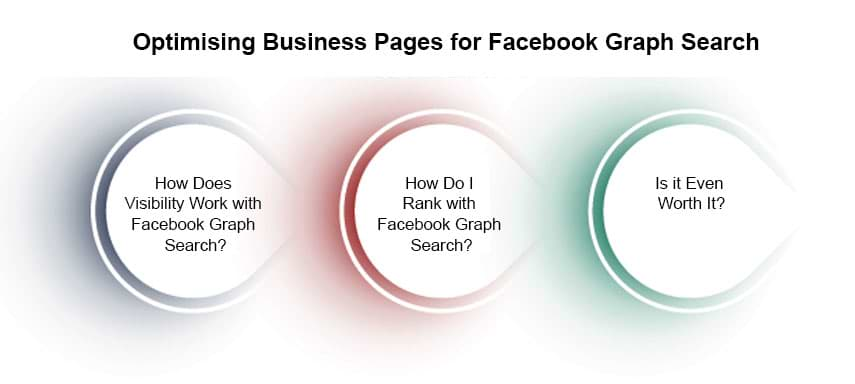 Optimising Business Pages for Facebook Graph Search
Last night Facebook announced Facebook Graph Search, putting to rest the many rumourssurrounding the cryptic launch event in Los Angeles.
These rumours included Facebook Mobile & an external search engine, but the most popular rumour turned out to be spot on - Facebook has radically overhauled their internal search function in a move that should frighten other social networks, traditional search engines and privacy advocates alike.
There are already tons of posts about the new search function and very few people have access yet (you can sign up for beta here), so instead we are going to focus on how brands (and individuals) can optimise to appear higher and more frequently in search results. One of those lucky few to get early access was Danny Sullivan at Search Engine Land, so head over there for a full run down of how Facebook Graph Search works.
It's very interesting that Facebook is the first social network to bring out a search engine like this. On our SEO courses and social media workshops we emphasise how you can use social media to help rank better in search engines, maybe now we'll have to include a section on using SEO to rank better in social networks!
How Does Visibility Work with Facebook Graph Search?
Mark Zuckerberg may claim that Graph Search isn't a direct competitor to Google, but it's still a search engine and so there will always be ways to rank higher. Facebook have managed to produce something that Google have been working on for a while - an Internet of Things. Instead of a database of web pages, they have a database of information on things - likes, photos, businesses, people, jobs, locations and many more - and can distinguish between these items.
Your visibility rests on how your business is connected to searchers - the more of their friends have connected with you, the more visible you are in their search results. But this can be just one of many factors affecting your visibility, including:
Total number of likes
Total number of check-ins
The level of engagement on your page
How often people talk about your business
The frequency that people check in/ engage
The recency of check-ins/ engagement
Your location
Your potential reach (are your likes/check-ins just local or are people coming from further afield?)
There are likely to be many more I haven't thought of, and the impact of each is determined by the type of search performed.
If a searcher is looking for businesses their friends like, then that will be the major factor. If they're looking for businesses in their area then total likes and of course location will have more of an impact.
But it's not just friends! You can search using an overwhelming number of factors. My favourite example of this is again from Danny Sullivan - "Search for Restaurants run by employees of a particular cooking school". So it's not just about number of connections, but about the type and value of those connections.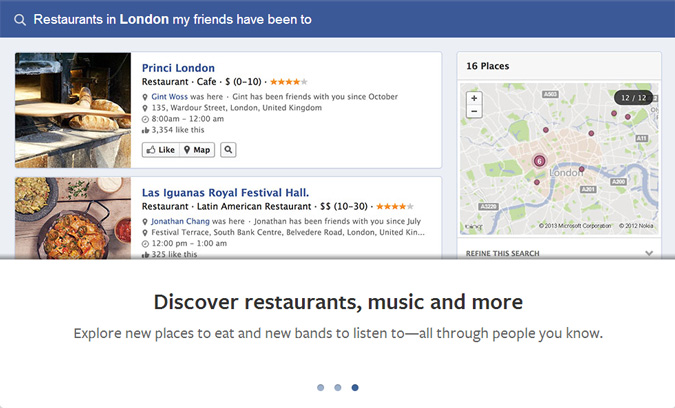 So how do you increase visibility? Facebook have their own tips, but here are some of ours:
How Do I Rank with Facebook Graph Search?
The immediate difference between normal SEO and what I'm going to call Facebook Graph Search Engine Optimisation (FGSEO) is that technical ability isn't much of a factor. With SEO, you can have the best website in the world but if you've got a broken robots.txt file the you're not going to rank for anything. With FGSEO, it's about traditional marketing, having a great product, and providing as much information as possible - which is exactly where SEO is heading. Okay, so you could develop Facebook apps or create your own actions and that does require technical skills, but currently it doesn't look like these are supported by Graph Search.
With that in mind, here are my top tips for higher visibility in Facebook Graph Search.
Update your Page
Combining all the options in 'Basic Information' along with your profile and cover photos, there are over 25 ways to customise your business page. Not one of those options should be left clear, and all of them should be as accurate and thorough as possible.
Some things are more important than others, because people can use these to search for you:
Location: Is your location accurate and up to date?
Categories: Is your business in the right category? Have you selected all the sub-categories that match your services?
It's important to then fill out as much as possible on top of this. While it's unlikely that Facebook uses keywords in descriptions as a ranking signal, it can't hurt to check they're there.
The more information you provide, the more information Facebook has about your brand. Not only that, but more information makes you more useful to people - having opening hours and contact details is essential! If they're looking for that information and don't find it, it's possible they'll never come back.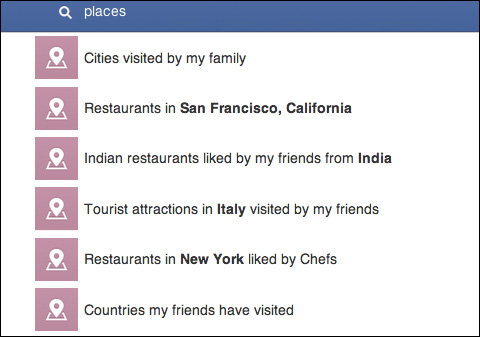 Likes
Likes are a big part of the new search function and could possibly been seen as a replacement for a link-based algorithm. However, just more links doesn't mean higher rank, more likes doesn't mean more visibility or business.
Why huge numbers of likes are good:
Likes are a big signal, and higher numbers should increase visibility for general searches.
Why you should stop Googling 'buy likes' to get huge numbers of likes:
Firstly, the signals are terrible. If you artificially gain likes from paid services or from unrelated giveaways (like us to win an iPad etc.) then those new likes are never going to engage with you and that is definitely a bad signal.
Secondly, you completely miss out on people related searches. Let's say you target web developers in Brighton. If no web developers, Brighton residents, or Brighton web developers like you then you are not going to show up for any of these searches by a web developer based in Brighton:
'Businesses that web developers like"
"Businesses in Brighton that web developers like"
"Businesses that my friends like"
"Businesses in my area"
All of those rely on you having a number of followers who are web developers, who live in Brighton or who are connected to that target customer.
Combine your big outreach campaigns with some local and targeted campaigns. Run promotions for local customers and make sure they target the right people. If you're giving something away, make it something that your target market would be interested in. I'll come on to it in more detail shortly but also think about the quality of your shared content. Does it encourage your followers to share? If so, do their shares then encourage others to like your page?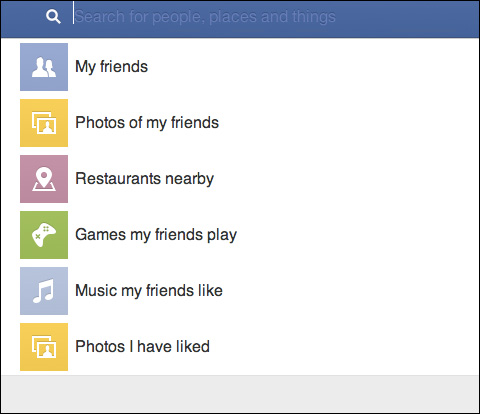 Check-Ins
This is very important if you operate at a location and it could be the death of Foursquare and other check-in services. Facebook check-ins are gathering steam but this should now force business owners to pay attention and encourage their customers to start checking-in.
It's not the easiest thing in the world to get people to share where they are with their friends but there are two main ways:
Provide a really cool service
People are more likely to share something that they're enjoying and want others to enjoy. If you provide a service that is out of this world then they want to tell their friends about it. You can encourage this with some hints like 'enjoying your meal? Why not check in on Facebook?' but in general this is a passive approach that relies on your customers liking what you do.
Provide an incentive to check-in
People are more inclined to share negative experiences than positive ones, and this can make gaining check-ins very hard passively. The best active way is to provide an incentive:
A one off giveaway for check-ins over a certain time period
Discount off future purchases with each check-in
Regular giveaways like 'One check-in per month gets a free...'
You can try this with likes as well, but with check-ins it's easier to make sure that it's your actual customers taking part.
Engagement
As with all of these tips, they don't just help with your visibility in FGSERPS (Facebook Graph Search Engine Results Pages) but with your visibility on Facebook in general. They use an algorithm called EdgeRank to determine what content should appear in newsfeeds and engagement is a big factor for EdgeRank so it's likely to have an effect on search.
If you are just adding to the noise - sharing updates with no response from your fans - then Facebook will decide that your fans don't really want to see your content. Those few likes, shares and comments you were getting will start to dry up because nobody is seeing your updates in the first place.
Think about what you can share to encourage engagement. Mix up your site and blog links with photo, video and text updates. The typical engagement on a link update is minimal compared to the biggest engager - photos. Use Facebook Insights to find out which updates have done the best and work out how you can repeat those successes.
Is it Even Worth It?
If you're snowed under with work trying to rank in Google, you're probably thinking 'are people even going to use Facebook Search?'
It's hard to tell. At first there will be some exploratory searches as people get to grips with the new feature. But will they continue to use it? And if they do will it just be to search about their friends rather than about businesses?
Currently, very few people have really connected their lives to Facebook. For Facebook Graph Search to really start working, people need to start liking more and checking-in more. Otherwise, there isn't really anything to search.

It's up to you to ignore this if you believe people will never make the switch to liking everything. The smart businesses will be the ones encouraging people to change, and they'll be the ones sitting at the top of the results if they do.
Interesting Aside
Facebook's Graph Search actually uses Bing to answer queries that exist out of Facebook's knowledge. It's not much at the moment, but if it starts to grow we could have a real challenge to Google on our hands.
Posted under: