Andy Trainer
4 May 2010
What is Product Breakdown Structure (PBS)?
Silicon Beach Training are one of the UK's leading providers of PRINCE2® Foundation Training and PRINCE2® Practitioner Training courses, with PRINCE2® Training in-company and at our training centre in Brighton.
What is Product Breakdown Structure (PBS)?
A product breakdown structure (PBS) is a fundamental part of project management and the PRINCE2® methodology.
A PBS is a tool used to assess, plan and display the outcomes required of a project. It is part of a product based planning technique, and attempts to break down all components of a project - in as much detail as possible, so that nothing is overlooked.
It is important to note that products may be physical or conceptual and may include tools required to manage the project e.g. test documentation, requirement specifications or safety certifications.
Product Breakdown Structure Example: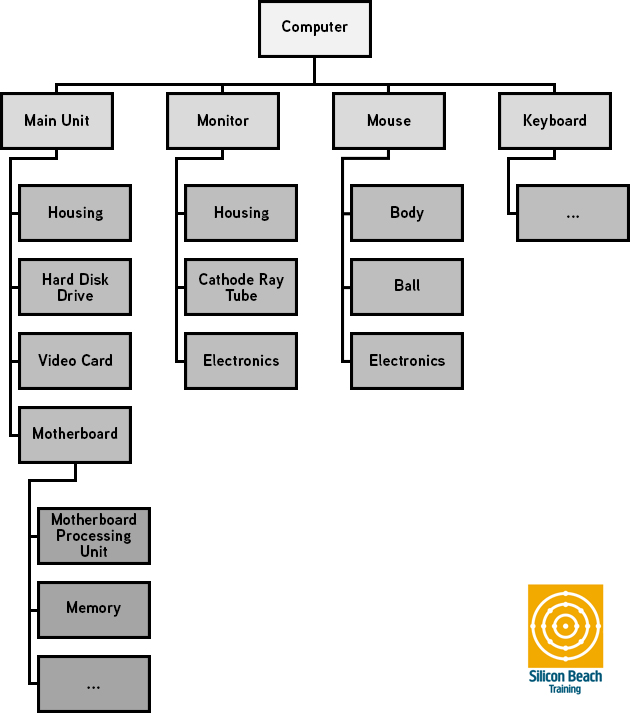 The image above demonstrates an example of breaking down the required components of a computer.
As you see a PBS offers a clear, exhaustive and hierarchical structure of all deliverables.
Tips for creating your product breakdown structure:
Use as much detail as possible
Cover all products necessary for the business's needs
Include products beyond the project's scope
Bear in mind that any external product represents risk
How is PBS different to Work Breakdown Structure (WBS)?
The tree-diagram PBS may look identical to the work breakdown structure (WBS) but it performs an entirely different role in the planning process.
The PBS breaks down all necessary outcomes of a project whereas the WBS breaks down all activities needed to achieve a project goal.
To put it simply; PBS defines where you want to go and WBS tells you how to get there.
For more Project Management Resources visit our PRINCE2® Resources round-up.
Posted under:
Project Management
training
product breakdown structure
WBS
work breakdown structure