Aaron Charlie
15 Jun 2010 What does direct mean in Google Analytics?
Direct traffic in Google Analytics
During Google Analytics training delegates frequently ask what does direct traffic mean? Here's our concise answer to help all beginners - if you're already familiar with Analytics basics you may be interested in our Advanced Google Analytics training in Brighton, Sussex.
We run SEO training and frequently blog on all things SEO e.g. optimising Facebook for Google and do MicroSites work?; do get in touch if there's some SEO information you'd like to see covered.
An example of direct traffic from the Google Analytics for one of our blog posts: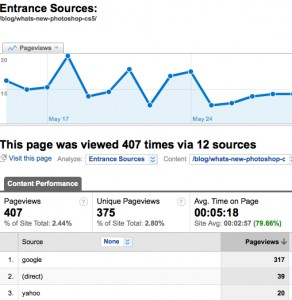 Direct traffic can mean traffic that came directly to your website, rather than finding you through Google, social networks or another website: i.e. they typed the URL into their browser, or they clicked on their own browser bookmark. It commonly accounts for 10-20% of your traffic.
However, this is not always the case as you will realise when improbable numbers of visitors are categorised as coming direct to a new blog post. This is because Google Analytics also uses direct traffic to refer to traffic with an unknown source.
Examples of where traffic categorised as direct could come from:
Bookmarks
Documents such as a Microsoft Excel spreadsheet
Emails or newsletters without link tracking (find out how to track email links)
RSS feeds
Links from a specific source that have been copy and pasted directly into the web browser
URLs that redirect without the proper tracking code (find out how to check redirects)
Web environments with security restrictions which don't share traffic referers
In conclusion, a high amount of direct traffic is good as it's often from a loyal returning visitor who can be more likely to engage or buy your products. A high quality site with a strong brand identity and interesting content will help you retain this direct traffic.
Hope this was helpful - let us know if there's something we should add.
Posted under:
SEO
google
training
traffic
Google Analytics
direct
faq