Andy Trainer
14 Jul 2010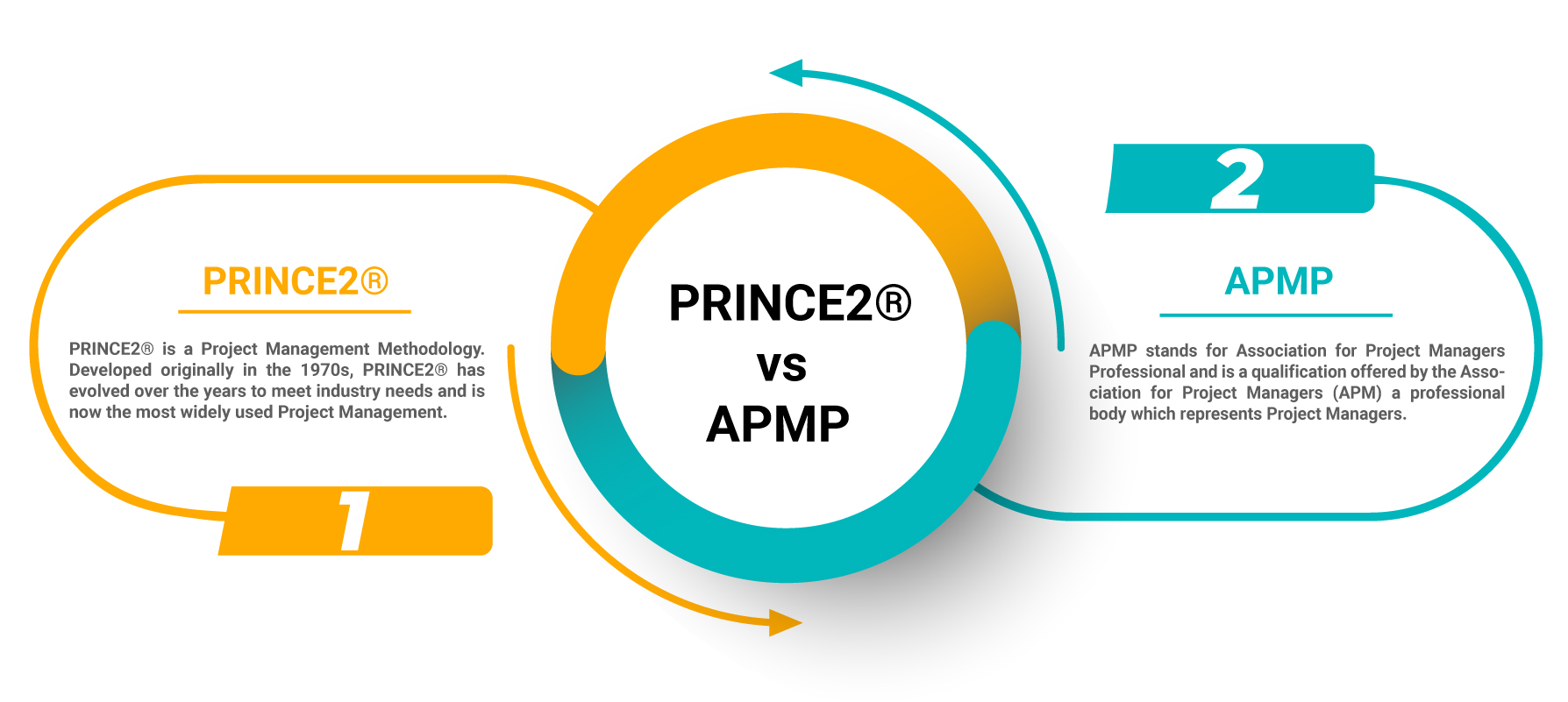 PRINCE2 vs APMP - What are the differences?

We do a lot of project management training here at Silicon Beach - including our most popular PRINCE2® courses - and we're often asked: "should I take the PRINCE2® Practitioner or the APMP qualification?"
There are some important differences between PRINCE2® Practitioner and the APMP qualification, and we'll cover those as quickly and clearly as we can here.
PRINCE2® Practitioner and APMP - The Differences
What is PRINCE2®?
PRINCE2® is a Project Management Methodology(PRojects IN Controlled Environments). Developed originally in the 1970s, PRINCE2® has evolved over the years to meet industry needs and is now the most widely used Project Management methodology in the UK (and increasingly overseas), both in the public and private sectors.
There are two PRINCE2® certifications - PRINCE2® Foundation (which demonstrates an understanding of the methodology) and PRINCE2® Practitioner (which demonstrates the ability to apply the methodology to real-world scenarios and is the more sought after qualification).
To obtain the PRINCE2® certifications, you need to sit a PRINCE2 exam - these are set by the certification body APM Group (APMG) who also manage and update the methodology and syllabus.
It is strongly recommended that you sit an accredited PRINCE2®Training course before your exam with an accredited Training Organisation (ATO). Silicon Beach Training is an ATO, and our 3-day PRINCE2®Foundation and 5-day PRINCE2®Practitioner courses include exams and certification. The 5-day Practitioner course includes both the Foundation and Practitioner exams (as a pass at Foundation level is a pre-requisite for the Practitioner qualification).
To find out more about PRINCE2®, read through our free PRINCE2® Training Resources.
What is APMP?
APMP stands for Association for Project Managers Professional and is a qualification offered by the Association for Project Managers (APM) a professional body that represents Project Managers.
Unlike PRINCE2®, APMP is not a Project Management Methodology. The APMP Qualification demonstrates an understanding of the APM Body of Knowledge, which is a publication covering fifty-two knowledge areas required to manage any successful project.
To gain the qualification you need to take a three-hour written essay-based paper which assesses how well you know the body of knowledge - this can be taken at any APM accredited training provider.
PRINCE2® vs. APMP - The differences in a nutshell
PRINCE2®is a Project Management Methodology - the most widely used in the UK.
APMP is a generic, best-practice Body of Project Management Knowledge, but is not a Project Management Methodology.
So Which Project Management Qualification Should I Take?
If you work for an organisation that uses the PRINCE2® Methodology, you should go for PRINCE2® (obviously!)
If you are looking for a job as a Project Manager, PRINCE2® is much more sought after than the APMP qualification, so that's the best one to go for.
If you are looking for a non-methodology specific Project Management qualification that will demonstrate your abilities as a Project Manager, then APMP might be the way to go.
If you would like to discuss Project Management training and qualifications in more detail please call Silicon Beach Training on +44(0)1273 6222 72 or e-mail info@siliconbeachtraining.co.uk
Posted under:
PRINCE2®
Project Management
PRINCE2® Certification
PRINCE2® vs APMP
PRINCE2® Accreditation
APMP Certification
APMP PRINCE2® Differences
What is the difference between PRINCE2® and APMP