Heather Buckley
21 Oct 2011 Managing Social Media Networks
when it comes to social media there is an ever-increasing number of online channels which can be used to quickly spread the word about your projects, products and services. But the wide range of choices available and the software available to manage social media can be daunting.

When it comes to managing your social media, consider what your business priorities are and what areas you need to focus on daily, weekly or monthly. Planning your social media activity is crucial!
We've made life a little easier with our updated downloadable free Social Media Schedule .PDF!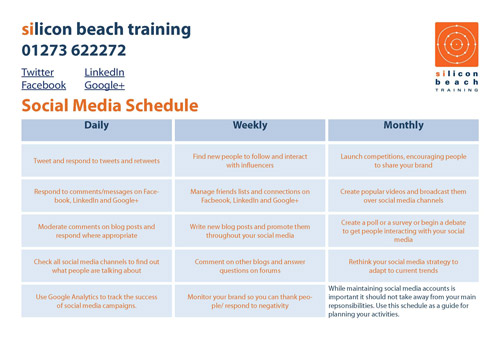 Daily
Daily social media tasks are crucial for maintaining your image and conversing with others. While it is not time effectively to always be on Twitter and Facebook you want to make sure you respond to any communication quickly.
Twitter - Tweet and respond to tweets and retweets - Tools such as TweetDeck and HootSuite are great ways to manage Twitter and if there's a topic you want to keep an eye on you can create a search column using the related hashtag.
Google+ - respond to mentions and comments on your posts, scan the feed for interesting content to +1.
Facebook - check your profile, pages and groups and respond as appropriate.
LinkedIn - respond to private messages and posts/comments in your groups if you have any.
Blogs - Respond to comments on your own blog posts - this opens up a dialogue between you and your users/followers, maximising opportunities for business relationships and reciprical marketing.
Bookmarking - Scan what's popular on bookmarking and recommendation sites such as Delicious, Stumbleupon and Digg and then add your own bookmarks accordingly.
Analytics - Google Analytics is the main choice for clear and concise information and it now features real time reporting. This is great as you can monitor your traffic from social media channels during campaigns to find our what elements of your social media strategy are the most successful.
Weekly
Weekly tasks are less urgent than daily tasks and require more thought and time.
Twitter - Find people to follow - particularly influencers in your niche who you can interact with and build connections. Your twitter feed is a great place to find out what is happening right now so it is more useful to follow relevant users than people tweeting about their cats. Manage your lists and thank those who have helped you out the most.
Google+ - Manage your circles, add new contacts and check people who have added you so that you can add useful contacts into relevant circles.
Facebook - Manage your friends and friend lists - make sure you're friendly with influential people and you group your friends into lists for to target different interests.
LinkedIn - Ask and answer questions - this is the best way to form a presence on LinkedIn. Answering questions with valuable advice shows you are a valuable member of your niche to pay attention to.
Blogs - Write blog posts - this promotes your activities and when done regularly enhances the possibilties of future repeat viewings by users. Download the WordPress plugin for automatic Twitter, Facebook updates, and get it circulating. Sites such as OnlyWire can also auto-submit your blog post to 42 top social network sites like Digg, Reddit and StumbleUpon. By doing this you can build backlinks to your blog.
Comment - Commenting on other blogs shows you are proactive and is also an opportunity to further promote your own blog posts. However, only link when necessary and provide interesting comments - just writing 'great post' and linking to your own blog is frowned upon and those comments simply won't be accepted.
Monitor Your Brand - Tools such as Google Alerts allow you to look out for mentions of your name or brand. You can do this in a Google Reader RSS feed, and then respond as appropriate. Social Mention Search is also good for tracking what people are saying about you.
Monthly
Competitions - What better way to encourage people to interact with your social media channels than offering a prize? There are a huge variety of competitions to run from photo to writing to video. Encouraging people to share their entries means they're doing your jobs for you and increasing your presence online.
Video - videos are far more likely to go viral than articles - especially good articles. People love sharing videos on social media, especially if they're funny, controversial or ground breaking. Create the next youtube sensation and you will see a massive boost in social media influence as people follow you to see what else you can come up with.
Rethink your strategy - the problem with social media that it is always changing but at the same time you will struggle to manage your social media without a clear strategy. While you must have an ongoing social media strategy in place you should take some time each month to evaluate the strategy and adapt it to current trends. For example - the launch of the Facebook Timeline will change how brands market on Facebook. Those that carry on with old strategies will soon run into problems.
Social Media Tools
When promoting your business with Social Media the majority of services are free. However managing just a single social network business page can be a full-time job, not to mention juggling multiple platforms. Recognising this busisness dilemma social-media-management software has been introduced offering applications that help your business manage multiple social network accounts simultaneously.
These tools are just a pick of the hundreds of Social Media tools available both free and at a cost - it can be daunting figuring out which suit your business. We recommend you try a few out, see which work and stick with them as many do the same job.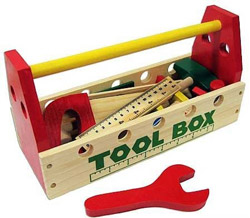 Unifying Social Media Tools
Interactive Marketing
WildFire works as a web application where you can create an interactive marketing campaign centred around competitions or giveaways which can then be distributed across your own company website and social media profiles. This is ideal for businesses that want to employ social media as an arena market sweepstakes, contests, give-aways and other incentive-based reward programs.
Cinch is an easy way of recording audio and distributing it on social media channels such as Facebook and Twitter
If you feel a bit intimidated by the fast pace of social media and the sheer volume of it all, our Social Media Training, Blogging and SEO courses are designed to assist you in making the right decisions.
Posted under:
Social Media
Twitter
social bookmarking
Facebook
profiles
networks
analytics
Tools