Charles Byard
27 Mar 2015
An Insight into Brighton Festival Event Photography with Heather Buckley
Heather is always advocating Brighton as being one of the best places in the world for event photography; she was recently quoted in the Argus after her "British Life" photography award for saying so. Heather has been thinking of organising some event photography courses for a while. It's something she has had great experience in. She has been running the Street Photography course in Brighton and has it off to a fine art. Learn invaluable photography tips during the day, have some fun, and take advantage of the opportunities that Fringe City, an annual Brighton Fringe event, provides.
There will only be two courses running during the Brighton Fringe Festival. They will take place on the 3rd and the 16th May. Delegates will start at Silicon Beach Training, where they will look at and discuss some of her favourite techniques, and how they might be achieved.
All the action is just down the road, so you can go down and warm up before the characters arrive, have a go at shooting before having lunch at a pre-booked cafe.
Places will be restricted to 6, Heather has a timetable prepared so everyone gets some time, more shooting takes place after lunch before taking the images back to Silicon Beach for reviews and a demonstration of Heather's favourite processing tips.
Find out more or book a place on our Event Photography course.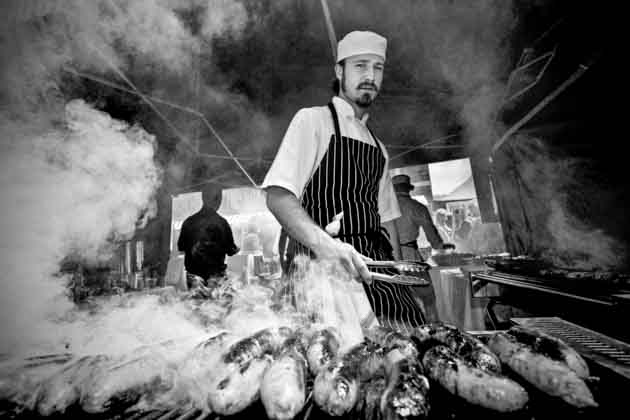 "Smokey Sausages" taken in New Rd during the Fringe. I used a wide angle lens 16mm and aligned the sausages along the bottom of the frame. I waited for the smoke to give me a clear picture of the trader. I used flash.
Brighton's Photographic Potential
Brighton Fringe is unique, feeling exotic yet familiar at the same time. It's quite peculiar. There's no shortage of excitement at any time of year in Brighton, but during Fringe the city erupts into colour.
The city transforms. The cosy Irish pub where you got your first ever job working behind the bar is suddenly the venue for a small folk band, the sky above the West Pier is filled with vibrant displays of fleeting colour. Local youth clubs become host to young poetic talent and musical talent.
You'll never find as great a breadth of creativity and talent anywhere else. Brighton Festival hosts a youthful, diverse population united by their love for art, music and the city they call home.
Brighton Fringe attracted 270,000 visitors in 2014; hosts predict this year to be bigger than ever. Great event photographers can capture the buzz of the crowd, the sound of the bustling market. Just imagine how many emotions a single person would go through at a day at the festival, times that by 270,000 and marvel at the how many potentially incredible photographs are hidden in any given event.
Brighton's bohemian underbelly located in the North Laines is iconic; have a poet write a sonnet the spot and pay them however much you'd like. Delve into vintage fashion boutiques or try 'Vegetarian Shoes'. The Laines is the cultural heart of the ever beating city. Fringe City – taking place in the North Laines is expected to draw in even more than the 50,000 it did in 2014.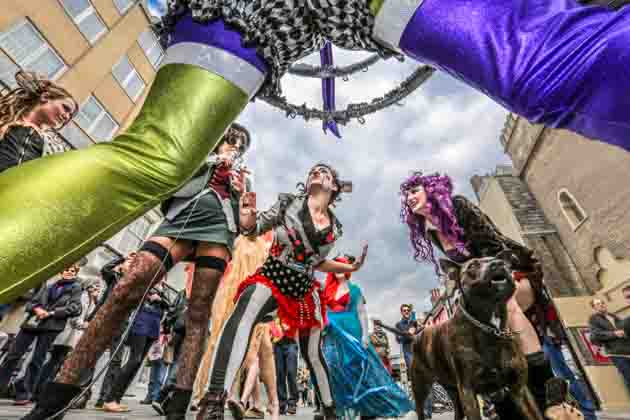 "Champagne Anarchists Anti Fashion Show" taken during the Fringe festival in New Rd, I was watching the performers from the side when I noticed the wide stride of the girl in front. I quickly placed my camera near the ground and waited for the dog to look my way before clicking the stutter. 16mm with flash
The Event Photography course is only £135+vat, with the quality of even lower priced compact cameras; there is absolutely no reason why you can't take professional looking images. As with anything in life, it takes practice, but once you've learnt the practical skills and creative perspective needed all that's all there is between you and great images.
Here's some insight into Heather's perspective and experiences as a professional photographer.
If you want to follow her photographic journey you can read Heather's blog, follow her on Facebook, Twitter, Flickr, and Instagram.
What influenced you in becoming a professional Photographer?
I've always loved photography, I enjoy it, you still learn things all the time and when you get it right it's so rewarding. I've decided to do a much of it, and things relating to photography as I can. It's hard making a living out of photography, but that's because it's so much fun. It's competitive, more so now than ever before in history. Everyone has a decent camera, and you can get decent images from mobile, millions of images are being taken all the time, and some of those people enjoy it son much they get better and better. There are a lot of photographers around so you need to stand out.
After a day of shooting, how do you decide which images make the grade, what stands out – what do they have in common?
We talk about this before we go out. The best images are the ones that tell a story, they make you think about what's going on. Sometimes it's humour, or simple but thoughtful compositions. It's all about the relationships between things in the image, the subject and background, or two subjects in an image.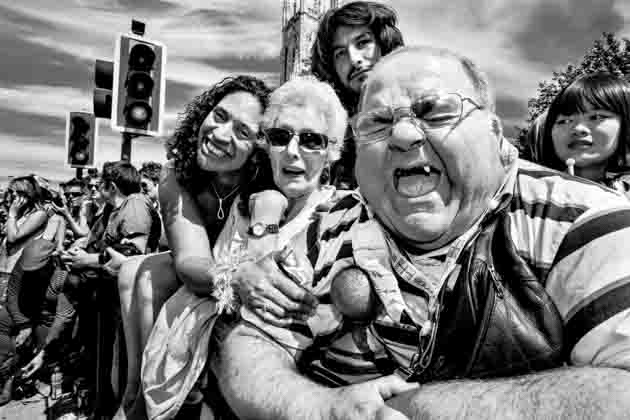 "Brighton Pride Spectators" The audience often make the best shots, be aware of everything not just the performance itself. Never be too shy to ask for an image and interact with your subjects. I had no idea this mans laugh was going to make such a great image, it's important to talk to your subjects when you are really close with a wide angle.
What advice would you offer to a budding photography enthusiast wanting to get noticed?
Take loads of pictures. Only publish your best work – be very picky. Try and come up with an alternative way of seeing everything that you photograph. Use social media to market yourself and get a great but simple responsive site that works well on mobile.
Would you encourage a young photographer to pursue a creative degree/qualification in hopes of better recognition?
Not necessarily. The industry has changes so much that the traditional photographer jobs no longer exist. In my opinion, if you want to make it as a photographer, you might get there quicker by learning your craft by experimenting, posting all of your best images and growing your social media account activity. Writing and showing images online and entering a few awards.
You're often described as having a unique perspective and eye for image opportunities, what has influenced this style?
It probably started with the event photography. I've been taking pictures of events, particularly in Brighton, for many years. I would publish them, as we all did; on Flickr a few years back, now people are more inclined to use Instagram or Facebook and they would get a response. The more different they were the more they seemed to stand out. Some of those early event photographs have had nearly 200 000 views, like this one, although I think it has something do with the content!
Every event produced thousands of photographers and hundreds of thousands of images would flood flicker with the same keywords in the same groups. I found that I needed to make my images stand out to get noticed at all. Different angles, no stand still and press the shutter shot. I started to think about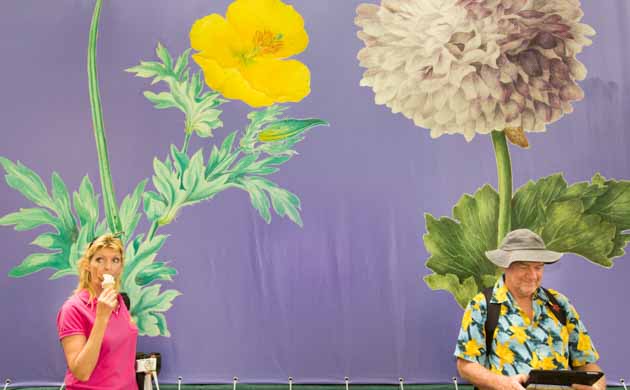 This was a commission for the RHS, it's a technique I often use, I look for the background first and then wait or arrange for the right person to be in the right place.
How has the ongoing success of your Street Photography Workshop helped to further your passion for photography?
The workshops are a way to earn some of my living doing what I love. It's good that I enjoy teaching and I've had a lot of experience in the training business.
What do you hope to pass on to Event Photography delegates?
I hope they go away with a different way of seeing when they go out with their camera. That they recognise good opportunities more often, and have the confidence and develop the know how to act fast enough to capture it. It does take practice, but it's easier when you know what you are looking for.
It's apparent that you have a remarkable talent for capturing images of people – Yet you were awarded RHS Photographer of the Year 2014 for your image of Foxgloves and Bees. How would you describe your versatility as a photographer and what would you attribute it to?
I still go on workshops trying out completely different things to my usual way of image making. It's good to keep on experimenting and learning, it's what keeps it interesting. Some photographers stick to a genre, and I do to a certain extent, but I enjoy trying new ideas so I tend to go off down certain tracks on occasions.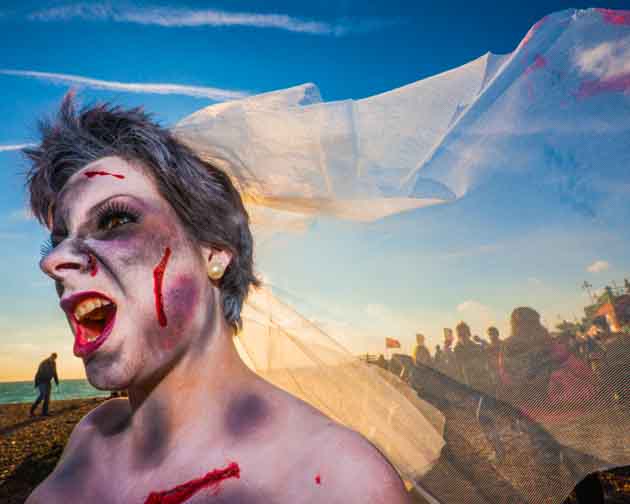 Another use of fill flash, when the subject is backlit the flash will make sure your subject is exposed properly.
How has your experience over the last 17 years as co-founder of Silicon Beach Training influenced your desire to teach others your talent for photography?
I was actually teaching before then. I have a lot of experience with training, so it makes it easier for me. In fact photography is the easiest subject for me because I genuinely love it, and I hope it comes across.
You were marketing director of Silicon Beach Training for a great number of years, what role does this experience play in engaging with your enormous online following?
While I was in this role I was focusing on using social media and SEO for the company website (Silicon Beach training still provide great training in these areas, click on the links above if you are interested) . My photography website was sorely neglected. It's only recently that I have had the time to work on my own site, the SEO is poor, I still haven't got around to dealing with it yet, it's on my list. On the social media side, all the time I was just fitting photography around work; I posted a stream of my images as I made them on social media. In some ways I've been building my social media following for years, it's only now I have anything to sell. Which is good. The general public are tired of being sold to online, creeping into all their social channels, browser windows, texts and spam. I think I built up such a big following because I didn't have anything to sell for years, and hopefully because they like my images and I post my best ones.
What role does Photoshop play in your style of photography?
I use Photoshop less and less now. Most edits are now done solely in Lightroom, due to popular demand Silicon Beach Training are now offering an in-depth Lightroom course. I don't move objects in an image very often, that's what Photoshop is still best used for. I can make such great and subtle tonal changes in Lightroom, that is usually all I do to the images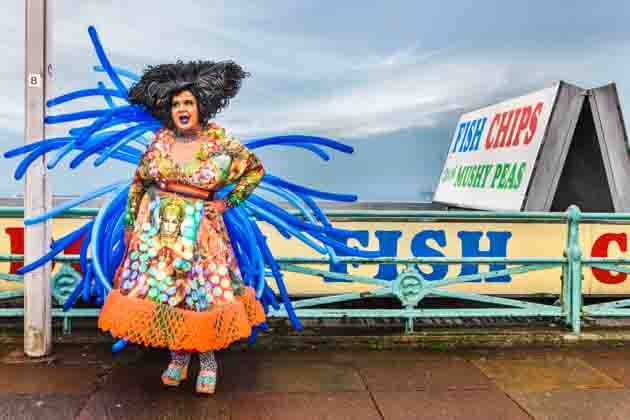 "Manula Bang Bang" One of my most popular Brighton Pride images. I like to get to an event before it starts, that way I get the opportunity to move my subject to the position I want.
Is Event Photography Right for Me?
Would your loved ones prefer a generic postcard from your trip to Rio De Janeiro next summer, or a photo that captured a priceless moment between father and son amidst the thrill of the carnival? The skills you use for street and event photography will stand you in good stead for many situations, it makes you think differently about image taking in general. There's always time to practice, you may even find a use for your photographic talent at work. Marketing and journalistic roles are finding that their creativity is becoming increasingly called upon. The ability to attend a conference, travel on a business trip and attend local events, returning with high quality photographs that can be turned into web content is invaluable to small and large businesses alike. Not only will you provide opportunities for engagement, you can also share your content the same day because you aren't restricted to outsourcing images.
Come along with a creative outlook and the optimism to learn and be amazed at how your photography improves. The course is open to anybody with the drive to learn, it doesn't matter if you're an amateur or a professional. Come along: learn, experiment and have some fun. Click here to see the event photography course and booking details.
Posted under:
Photoshop
Adobe
Photography
event photography
Brighton Fringe