Aaron Charlie
27 Jun 2012
4 Reasons to Use Custom Typography for Your Brand
One of the toughest jobs for in-house designers is choosing fonts. From the company logo (visible on all digital and print copy as well as signage) to copy on the website, it's important to think carefully about the font you use to reflect your brand's identity and establish a recognisable look.
Designers are fairly limited when it comes to web copy; you should set a fairly standard font so that it can be displayed by all browsers.
However, when it comes to print and graphic design you are free to play around with typography and can experiment with different typefaces or even create your own!
You can make small adjustments to a basic font (Arial, Helvetica, Tahoma etc.), download somebody else's custom font from one of the many free font sites (check for commercial licensing first!) or even create your own custom typography.
As a branding tool, custom typography is the ideal solution. Customers will easily recognise media that belongs to you. Some people draw the line at creating custom text for just their business logo, but we recommend going a step further and creating an entire custom typeset.
You may need to hire in a typography expert but the tools are available for anybody to have a go using Adobe Illustrator. After attending our Illustrator workshop you will have all the skills needed to start creating your own typefaces, although we don't cover typography in detail on the course. If this is something you are interested in learning we can tailor our courses to your requirements.
Once you have created your custom font, you can then use it in Photoshop & InDesign when editing and creating graphics for your web and print materials.
So why should you spend time and resources creating a custom typeset for your business? Here are my top 4 reasons!
#1 Text That Stands Out
How often do we see the same fonts occurring again and again in advertising and print media? How many signs can we read that use Arial before they all merge into one?
These days, when you see a company doing something different with text you're more likely to pay attention.
Take a look at the ad from Ben & Jerry's below. Which one stands out and gets you excited about ice cream; the custom typeface or the same ad using Arial?

#2 Recognisable Brand Identity
How many iconic brand logos can you think of that are just text? While many businesses go for images (Nike, Adidas, Twitter, etc.) many go for a custom text logo.
The meteoric rise on Pinterest in social media has certainly been a talking point this year. Pinterest is recognisable for its big 'P' which is used both as part of the company name and on its own in different logos – this is a great branding idea!
branding a new business.
#3 Consistency Throughout Media
It is important to create a clear brand identity; customers should be able to recognise anything you produce in both print and digital media. One of the easiest ways to do this is create consistency using custom typography.
Whatever you write and no matter where it ends up, you want people to know you wrote it.
In this case, colour scheme is as important as anything, especially for web fonts where you are limited by common character sets.
At Silicon Beach Training we have chosen a distinctive orange and blue colour scheme (also used in our logo) which is used for all digital and print media from our site to our training materials. We use Verdana as the default font on our site and a custom version of Verdana for our logo. When you see Verdana in blue and orange, you know it's Silicon Beach!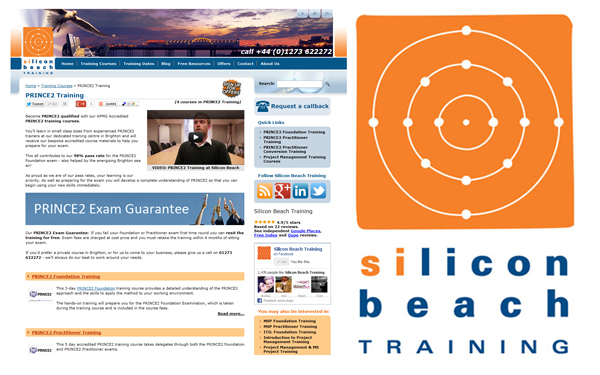 #4 Freedom to Do What you Want!
Unconstrained by standard fonts you can experiment and come up with really creative ways to use text.
A custom font can be designed around an existing image or logo, a new idea, a photograph – whatever you can think of you can turn into text, which could then become an iconic typeface!
To finish off, here are some of my personal favourite text based logos, from global brands to local businesses:
Does your business use a custom typeface? Let us know by leaving a comment below!
Posted under:
Photoshop
Adobe
InDesign
Illustrator
design
Typography
Typefaces
Branding
Graphic Design
Logos
brand identity
logo design