Tom Ewing – Content Within the Context of the Stream
After two excellent presentations from Lauren Pope on Agile Content Strategy and Ian Humphreys on the importance of Narrative, Tom Ewing from BrainJuicer explained "How to win at Pooh sticks".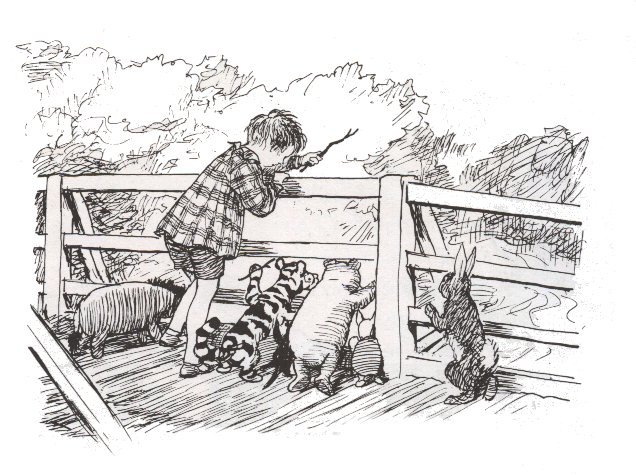 Tom argues that the dominant metaphor for the internet used to be the 'page'; just a static visual. These days it's now more like a 'stream'. Content flows into your world, each individual piece of content is minimally significant but collectively it gushes down on us. This has been termed 'nanoculture'.
This point is well-made: people no longer draw their content from one or two sources but have feeds from Twitter, Facebook, news-sites and any number of other social networks.
But while all social media makes up this flow of content it's Twitter that is the obvious prime source.
News, pop-culture, politics, business and more all make up the content  but it's not just the information that we receive but also how we interact with it that defines our individual stream.
Stock in Our Stream
Most of our stream flows past us and in days, weeks or months it will be forgotten. Content that sticks is termed 'stock' and yet what one person considers stock will merely be part of the stream for others.
The anthropologist Mimi Ito argues that it's the culture not the features that defines a network, and therefore helps to define your stream.
Creation, replication and mutation is how the culture of a network is defined. Pinterest for example embraces a culture of creation and replication while memebase embraces mutation.
Feeling Machines
Antonio Damasio says "we are not thinking machines that feel but feeling machines that think" and so our stream will be defined by emotional not logical responses. Tapping into those emotional responses is where good content marketing lies.
You can't divert or interrupt the stream but you can shape it. Alter the way people think about things by shaping the narrative of their stream: using a horoscope as an example – it doesn't predict the future of an individual but instead shapes the way an individual thinks about their future.
Tapping into the Stream
Empowering an individual as well as entertaining them is a prime way to shape their flow.
Further to this, tapping into surprise as an emotional response can be used as a way to shape a person's stream, what they share and therefore their behaviour. But surprise alone is not enough, it needs to be mixed with a little bit of happiness!
So the recognition of the need to shape an individual's stream coupled with a knowledge of what emotional responses to try and trigger will allow a content marketer to create content that influences and sticks with their audience.
Overall Tom's talk gives us some pertinent points to think about when creating our content: what emotions to target and how to tap into people's streams.
Similar posts you may like
Tags
blogging, content marketing, content marketing show, content marketing show london, internet stream, Tom Ewing
Share This Post